ESCAPE AND EVASION SEMINAR
(Check out the youth version at the bottom)
I'll give you two versions of this email:
So choose one
#1. I'll be holding a special "Spy Escape and Evasion" seminar on Saturday, April 24th, from 1-5pm. The seminar will cover more things than I can list here, but will include "James Bond and Jason Bourne" techniques including:
Counter surveillance

Lock picking

Escaping from restraints (hand cuffs, zip ties, etc.)

Making disguises

Faking ID's

Creating a bug out bag

How to disappear

Travel safety (car, hotel, flying, etc.)

Tons more!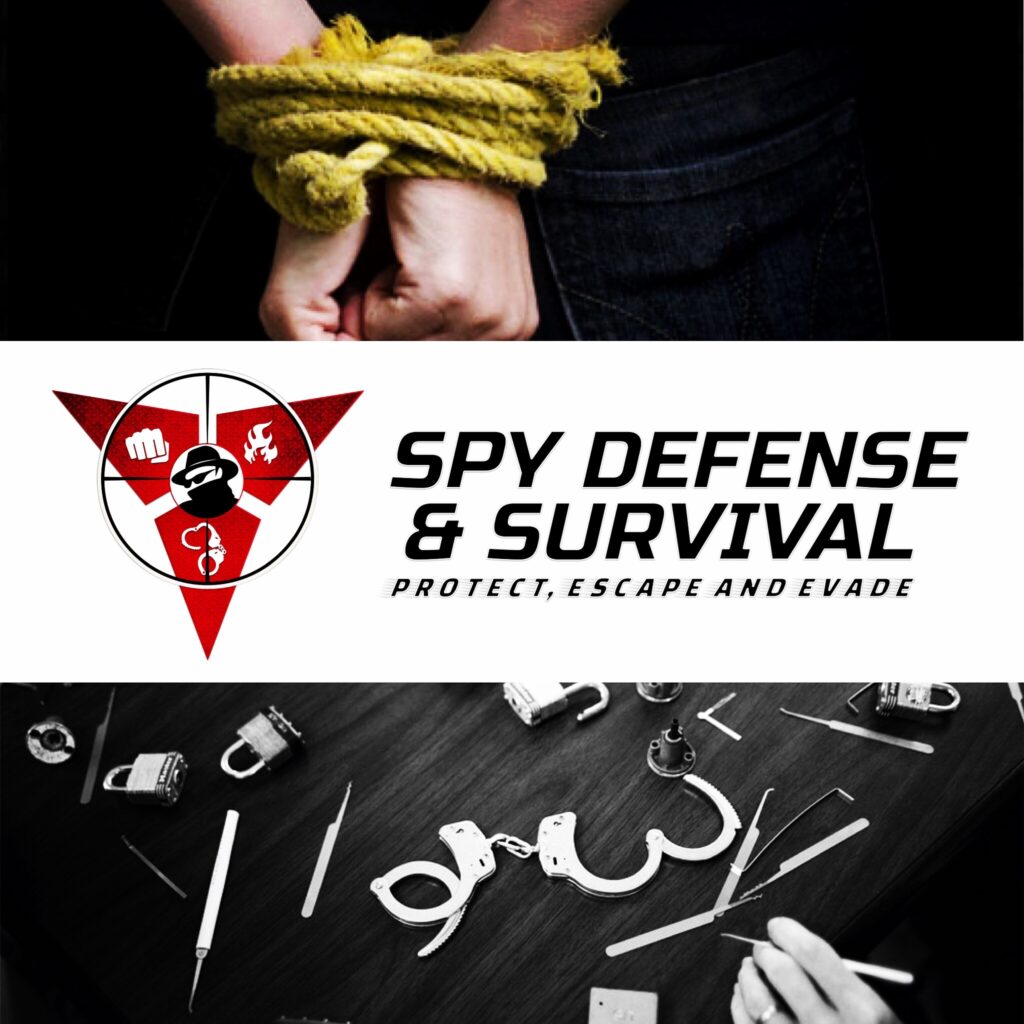 #2. The second version of the email gives you the whole backstory...
I've been obsessed with personal protection for as long as I can remember. Maybe it was my dad being a Chicago area cop for over 30 years... After he graduated from the FBI Academy he took us on a tour around Quantico and I was amazed at what I got to see. I'm sure being a kid of the 80's, numerous action films fueled my desire for the topic as well.
As I chose my career of being a full time self-defense instructor over 21 years ago, I was on a mission to bring people the most cutting edge, no non-sense self-defense training. And, although I've achieved that through the Israeli's Krav Maga and Bruce Lee's art of Jeet Kune Do, I also understood how important the "pre incident" and "post incident" training was as well. "Pre and Post Incident" simply boils down to several things including:
How can we protect ourselves proactively?
What can we do to make ourselves "poor" targets?
How can we acquire skills to deal with horrible situations like kidnapping and social breakdowns, where our survival is paramount!?
What kind of training do we need to physically and emotionally overcome near catastrophic situations?
The tools, tricks and trades to protect our loved ones if we are present or absent, and danger arises for them.
Over the years I've been blessed to have such experiences come knocking on my door step, like after 9/11 when the US Air Marshals contacted me because they needed to learn what weapons could be used on airplanes, and how to defend against them. Years later the ATF came to me because their under cover field officers were getting the crap beaten out of them, when they were unarmed, and they had me completely create their new hand to hand defensive tactics manual.
All through this time, there were countless people who have come to me because they were raped, or kids were going off to college, younger kids were getting bullied or they themselves were attacked and they thought they had "good" martial arts training. Furthermore, not that long ago, my family and I decided to travel around the world for a year, and I spent the previous two years preparing for overseas home protection, kidnapping scenarios while in 3rd world countries and additional travel safety in the Middle East, Asia, Central and South America, etc.
Most of this info I didn't share with the public, because I really didn't have time to do so. I would run special training sessions with a select group of students back in Chicago called our CATT group, or Counter Assault Tactic Team. We would train and do field exercises with car jackings, defense on moving transportation (like a bus), creating deadly improvised weapons with incredibly simple stuff, and so much more. But to my regular students, I didn't share this stuff.
Until now...
About 6 years ago, my mom calls me and says there is this guy on TV who is showing self-defense, protection and "escape and evasion" techniques. She recorded it, and when I stopped over at her house I checked it out. This guy would later go on Shark Tank, Dateline, NBC, ABC, Today and be seen in Forbes, as he was an ex-CIA agent who was teaching the public about everything I've been learning for years. For some reason, a thought popped up in my head, and I said to myself, "I'm going to work with this guy...".
Soon after that, life got in the way, and I guess I had my version of a mid life crisis. I was working 75-80 hours per week, and feeling I was losing sight of my kids growing up. As you may of heard I then spent the next two years selling my house, cars, martial arts schools, furniture, most of my clothes, etc. Then my family and I went on a 14 month sabbatical living all over the world (yeah, we hauled our two sons through 33 homes in 14 months over multiple countries and continents... whoa).
When we landed in Phoenix, I ran into this ex-CIA's material again, and thought I'd contact him. I asked if we could partner up on some joint ventures, and I kept on getting road blocked by his assistants (for over 18 months!). One day, I randomly looked through some DVD orders I sell, and saw his name. Please note, I never look at the names on the orders which come through, as I have someone else fulfill them... but this day I randomly did... crazy! He bought my stuff, and that gave me his personal address. So, I contacted him again, and after seeing my stuff now HE wanted to work with me!
Long story, even longer... he asked me to train some of his elite customers at a Spy Camp he runs ($7,500 per head) in addition to running some joint ventures with me. Furthermore we created a "Spy, Escape and Evasion" program that we can run at my self-defense academy that would teach attendees all of this cool "James Bond and Jason Bourne" stuff. Please note Phx Krav Fit is the ONLY martial arts school teaching this cutting edge program.
To start off we'll be running a eight hour seminar covering a bunch of things, including:
Counter surveillance
Lock picking
Escaping from restraints (hand cuffs, zip ties, etc.)
Making disguises
Faking ID's
Creating a bug out bag
How to disappear
Travel safety (car, hotel, flying, etc.)
Tons more!
I'll be running future seminars like this for $297, but because you're part of my "Anthem Inner Circle", I've made a special one time discount price of $97 if you register by TONIGHT. If you're interested in that, please go to this link:
Register Here ===> http://spydefenseandsurvival.com/
Obviously we have a super limited amount of space for this seminar. This special discount is open to any friends or family that you have, so please pass on this email / link to them. If the link is dead or blank, then we have reached capacity (so hurry!).
Thanks again! We'll see you at the seminar!